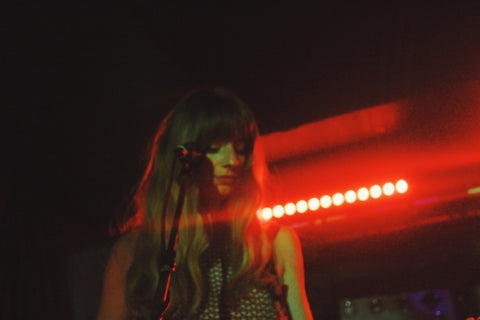 Band Crush! : Ringo Deathstarr
A darling of the indie shoegaze (A style of Alternative Rock music that emerged in Europe in the late 80's that featured blisteringly loud and dreamily reverberated feedback.) music scene, and one of our current band crushes, Ringo Deathstarr, a pun on the famous Beatles drummer's name, hail from from sunny Austin Texas. Their music is a grinding and noisy (music to our ears), taking from the likes of My Bloody Valentine and dare we say The Jesus & Mary Chain and is definitely worth checking out. With a female lead, Alex Gehring plays bass and provides ethereal, delicate vocals for a perfect contrast to their reverb sound. 
The band, already hugely popular in Japan has been on a upward climb amongst scensters in the US.. They've toured Japan over 8 times and even have made fans out of Sugizo, a member from from highly influential J-Rock band called X Japan. Ringo Deathstarr's success in Japan even prompted them to release their mini album God's Dream in Japan before the release date of the album back on their home turf.
Now, after all this hype we've been hearing, we actually gave the band a listen and am now proud to call ourselves fans. We found out about Ringo Deathstarr's upcoming American tour and decided to attend one of their New York dates at the infamous Brooklyn venue "Baby's Alright".  After the opening acts performed, It was time for Ringo Deathstarr to play. They were amazing none the less!  Their stage presence was magnetic and it paired perfectly with the distorted guitars, and dreamy vocals as well as the loud drums. We were in a shoegaze paradise.
Photographing them was a major highlight of the show. It's as if Alex Gehring was made to be photographed. I mean, check out that outfit! Major babe alert! Not to mention that they all have REALLY great hair!
Ringo Deathstarr are definitely a talented band worth checking out. Especially with their latest release Pure Mood which they've been touring for now. Pure Mood is not a departure of their iconic sound, but it is definitely another step in their own direction. Check out the song 'Guilt' which is the lead single off the album and you can hear (even feel) the ethereal wave of noise. And welcome yourself into shoegaze heaven. And if they're playing in your city, definitely make it out to one of their shows. It'll be a performance to remember!