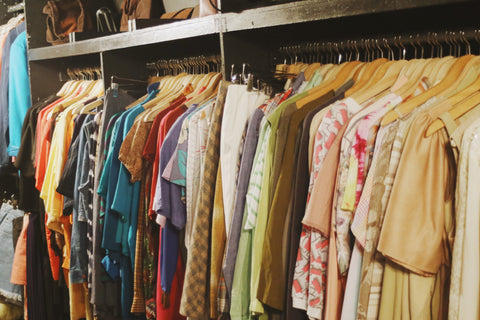 SHOPPING : Our list of where to shop vintage in NYC
Here at Cloak and Dagger, Vintage is a big deal! As a boutique with our own carefully curated Vintage selection, We totally get vintage shopping can be a hit or miss when it comes to thrift shops in New York city, The best gems are usually tucked away in a sea of fast fashion resale. But don't fret! we put together an insiders list of vintage shops just for you!
10 ft Single By Stella Dallas
285 N 6th St, Brooklyn, NY
Hidden on the far corner of N 6th St, Under the Brooklyn-Queens Expressway in the trendy neighborhood of Williamsburg Brooklyn you'll find a branch of the infamous vintage chain Stella Dallas. 10 ft single is a surf inspired vintage shop for men and women with a super diverse range of product like deadstock band tees and raw leather goods an an AMAZING back room full of 40's and 50's vintage designer items. You'll get lost for hours perusing the racks! 
Rags A Go-Go
218 W 14th St, New York, NY
Right smack in the middle of the Meatpacking District on 14th street and 7th avenue Lies a storefront decked out in a colorful mural and painted cowboy boots That definitely stands out in it's neighborhood. Rags-A-Gogo has a HUUUGE selection of vintage items ranging from vintage Levis denim to 70's silk blouses and flare pants and so much more! Theres also a really cool vinyl shop downstairs thats definitely worth checking out if you're looking to expand your music collection! The sales staff are super nice and helpful and the prices are really great!

The Mobile Vintage Shop
43 Bogart Street, Brooklyn, NY
Yes you read right! A MOBILE Vintage Shop is parked right on the corner of Bogart and Moore Street in Bushwick/Williamsburg Brooklyn. If that's not a cool enough reason to check it out then i'll go on to add that everything being sold inside is $10 YES TEN. You'll feel like you've hit the vintage gold mine with their perfectly curated vintage selection ranging from delicate silk and lace blouses to quirky leather handbags as well as books and jewelry! This shop is definitely a must-shop for anyone who's looking for a great quality, stylish item for an insanely good price!
Urban Jungle
118 Knickerbocker St, Brooklyn, NY
Vintage chain L-Train Vintage has many locations scattered all over manhattan in brooklyn, our favorite is urban jungle. Located conveniently off of the morgan L train Urban jungle is your one stop shop for all Vintage staples. Super Reasonably priced and full of really cool one of a kind vintage items, you'll be sure to walk out with something great
!