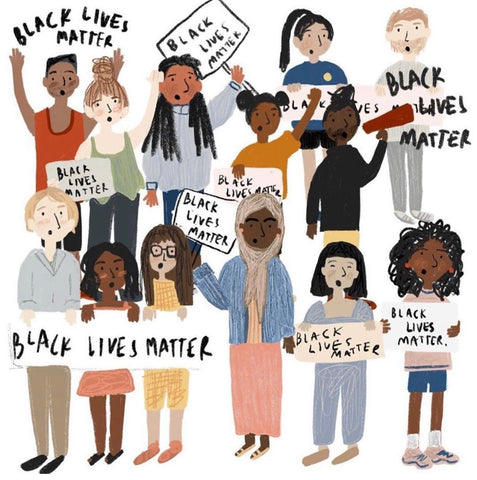 5 Steps You Can Take to Be An Ally
We are living through one of the most pivotal moments in American history. The horrific death of George Floyd at the hands of Derek Chauvin and three other Minneapolis police officers has sparked worldwide outrage regarding police brutality and the oppression of Black Americans. The first thing that comes to mind when people back a movement for a good cause, is to donate money to different organizations. However, there are many other ways to show one's support if donating is not an option. 
EDUCATE YOURSELF
The first, and most imperative action that can contribute to making a change is to educate yourself on the history of Black Lives Matter and systematic racism within our country. Below is a list of books, films and tv series' that can provide helpful information and context to today's BLM environment.
SIGN PETITIONS / CONTACT GOVERNMENT OFFICIALS 
There are numerous petitions available to help bring justice to those who have died, such as George Flyod, Breonna Taylor, Ahmaud Arbery, Tony McDade and MANY more. In addition, there are petitions to defund the police, classify white suprecimists as terrorists, ban/restrict teargas, reject Trump's violence towards protesters, etc. Click here to view a compiled list of petitions to sign. 
Along with this, there are also pre-written emails to send to government officials and numbers that you can text in order to demand justice. Click here for a compiled list of that information. 
SUPPORT BLACK ARTISTS, BUSINESSES & ORGANIZATIONS 
Do your research on Black artists, musicians, businesses and organizations both in your community and beyond. It is important to support, daily. Make new routines. Expose yourself to new content. Below are a few accounts to support: 
Spotify has created a Black History is Now page full of music, podcasts and speech compilations created by and to uplift the Black community. 
@golde and @kncbeauty on instagram are two Black owned beauty brands that are so worth checking out! 
@ohhappydani and @coilyandcute are some amazing Black artists! They create beautiful pieces, click to take a peek at their work!
PEACEFUL PROTESTING / USING YOUR VOICE
The time for change is NOW! We support protesting for Black Lives Matter and using your voice to express the justice that needs to be served. See the image below for tips on how to protest safely. 
Additionally, IT IS OUR DUTY to stand up and speak out against those who remain silent or say that racism "Isn't their problem" whether those people are your family, friends or neighbors. At the very least, we must identify privilege, listen to the Black experience and SPEAK out against injustices. People need to be disrupted from their bubble. For more helpful protest information, click here. 
DONATE IN ALTERNATIVE WAYS 
There are many ways you can donate money to organizations that support Black Lives Matter without pulling out your wallet. For example, this video called "how to financially help BLM with NO MONEY/leaving your house" is a FREE way to donate to bail funds, family funerals and advocacy through YouTube adsense. So make sure to watch ALL the ads!! 
Remember, Black Lives Matter and being an ally is something we need to fully integrate within our lives. Do your research and speak up!
Featuring artwork by @jane_mount and @andrecaceresg.