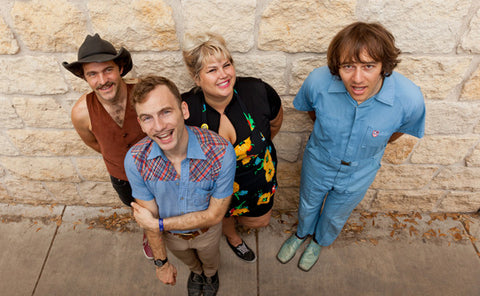 BAND CRUSH!: Shannon and the Clams
September 15 2016,

0 Comments
Oakland Trio Shannon and the clams has been #1 on our playlists for some time now. Shannon and the Clams' Rockabilly influenced Garage Punk sound is something that our ears never get tired of! So when we heard They were finally returning to NYC for a show, We just HAD to snag some tickets! So we went down to the Market Hotel in Bushwick, Brooklyn for the show.
The venue inconspicuously floating above a bodega was a bit hard to find but after seeing a couple of fans, dressed in their best looks, we knew that we were where we needed to be. The opening acts (BENNI, Saylavees, and Fletcher C. Johnson) were equally as energetic and great as the headliners were. As the Venue became jam packed with people, it was time for Shannon and the Clams to take the stage! 
As the crowd began cheering Shannon and the clams picked up their instruments and got on stage. Naturally their choice of wardrobe didn't disappoint. With looks straight out of a john waters film, The crowd knew it was going to be a great show.
Playing fan Favorites and Dance-y numbers like "Rip Van Winkle" and "the bog", soon enough the crowd turned into a dance party. We of course participated since its virtually impossible to stand still when Shannon and the Clams comes on!
From start to finish the band's high energy, and put together sound was IMPECCABLE. These guys definitely know how to put on a show! They also engage with the audience SO WELL. Getting in a few laughs with an extended and really hilarious version of "Rat House" Shannon and the Clams Definitely know how to bring the party and made a lasting impression on the crowd. We're definitely looking forward to seeing them next time they tour the east coast! We'll be waiting :)