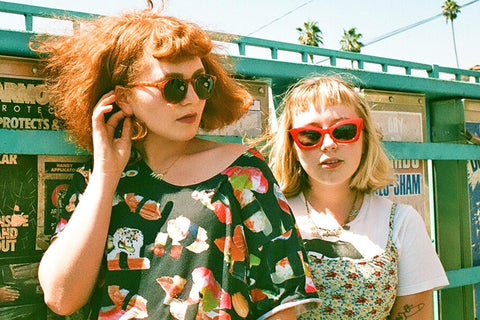 Bands to Know: Girlpool
The Los Angeles music scene is known for having its fair share of badass babes-- but Girlpool is probably one of the more unique groups to come out of L.A. in recent years. Founded by Cleo Tucker and Harmony Tividad, Girlpool released their first E.P. on Bandcamp in 2014. Since then, the group has signed with major indie record labels and released two more studio albums, included Powerplant, released in May of this year. 
If you're looking for a new group to fall in love, look no further than these super-talented ladies. Girlpool has been compared to Kimya Dawson (of the Moldy Peaches) and has a musical style all their own: a fusion of folk and punk that's super catchy, too.
We've been playing their album Powerplant on repeat at the shop recently, but any Girlpool records will be a great addition to your summer playlist. "123", from Powerplant,  is a dreamy, gorgeous track that really showcases their unique style. And "Cut Your Bangs" is a great song to listen to if you're thinking about making the chop, or just want something fun to dance to. 
Be sure to check out Girlpool if you're in need of some new summer jams! We're crushing hardcore on their dreamy tunes and amazing vintage style. Girlpool's music will definitely add some good vibes to your playlists and rooftop parties this summer, so go take a listen ASAP, babes!