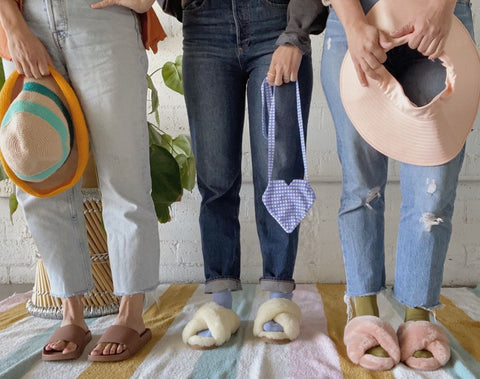 BRAND SPOTLIGHT/INTERVIEW: CASA CLARA
April 25 2021,

0 Comments
This week, we are shining a light on an accessory brand that we carry! Casa Clara makes the most amazing, colorful accessories! We decided to pose 10 questions to their team and get a better look as to who the brand is and what they stand for!
Enjoy babes! Check out Casa Clara's accessories on our website here!
1. WHAT/WHO IS AN INSPIRATION BEHIND CASA CLARA?
Casa Clara pulls inspiration from our travels, we draw from the colors of the landscape, to meals and the fabric of our travels. We do our best to tell the story of our favorite beaches, the roads we've taken and the adventures we've had.
2. WHAT IS ONE IMPACTFUL MOMENT THAT LED THE BRAND TO WHERE IT IS TODAY?
One of the most impactful moments was a trip to Mexico where our designer met one of our makers, we've partnered with their family for the past 5 years and continue to work with them today.
3. WHAT IS YOUR FAVORITE SONG AT THE MOMENT?
The Weekend by SZA, Calvin Harris and Funk Wav.
4. WHERE DID THE NAME CASA CLARA COME FROM?
One of our founders was pregnant and wanted to name her baby Clara if it was a girl (it was a boy), and instead she named her company Clara. Casa is the embodiment of home to us, and we wanted to give a nod to our brands foundation.
5. WHEN AND WHY DID YOU INTRODUCE SLIPPERS INTO CASA CLARA'S BRAND?
Truthfully, COVID played a huge role in the slipper addition to our collection. Everyone was working from home (including our team), and we were looking for fun, colorful slippers and couldn't find any!
6. COLOR SEEMS TO PLAY A LARGE ROLE IN EVERYTHING CASA CLARA. WHY IS THIS IMPORTANT TO YOU?
We connect color to feelings and emotions, when we create bright and playful earrings it's truly because they bring us joy. We're also pretty simple in our clothing style so how we add color is through our accessories.
7. NAME ONE PART OF FASHION THAT YOU BELIEVE TO BE TIMELESS.
For us, we're blue jeans, white ringer tee, black blazer girls and of course some gold hoops are timeless to us.
8. FOR PEOPLE WHO DON'T KNOW CASA CLARA, HOW WOULD YOU DESCRIBE YOUR BRAND IN TWO SENTENCES OR LESS?
Casa Clara is an accessory brand that focuses on statement pieces mixed with bold colors and girly details. Casa Clara is owned, operated and funded completely by women who are all about accessorizing our fellow sisters.
9. WHAT IS ONE GOAL FOR THE BRAND WITHIN THE NEXT YEAR?
For Casa Clara, it's branching out into other categories while staying true to the brand. And TRAVEL!
10. WHAT IS ONE ITEM THAT NEVER LEAVES YOUR PURSE?
Salud Bestisos Lip Balm, we're obsessed!
XO,
Cloak & Dagger