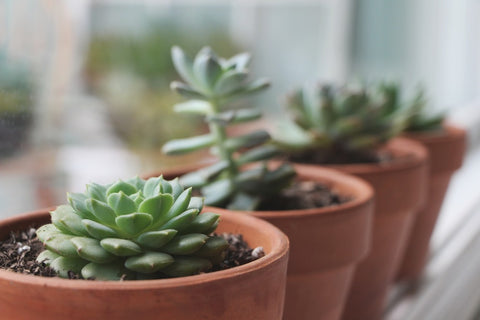 C&D's Guide to Succulents and Cacti
August 29 2017,

0 Comments
There's nothing cuter than a potted succulent or cactus-- they're a great way to brighten up any space. But while they're known for being incredibly low-maintenance, taking care of them does require a little bit of skill. Below, we've compiled some tips and tricks for making sure your plants live their best life, without causing you too much stress. 
1. Don't overwater! 
Sure, everyone knows that cacti and most succulents don't need a lot of water, but sometimes, it's easy to overwater, especially if you're worried your plant is too thirsty. A general rule of thumb is to water cacti and succulents every few weeks to a month. But it's always better to hold off if you're nervous about overwatering them! And even if the plants start to get a bit shriveled, a little drink of water will bring them right back. 
2. Make sure they get some sun. 
Or at least plenty of bright light. Cacti and succulents love bright, sunny spots in any corner of the house-- just make sure they're getting the vitamin D they need! Otherwise they'll become sad and shriveled. A windowsill that gets a lot of sun is a great option, but a fire escape will work just as well. 
3. Drain properly. 
As we mentioned before, succulents and cacti don't need a whole lot of water, which is why good drainage is key. Make sure the bottom of their pots have a bit of gravel or pebbles, to help prevent the water from staying in the soil. There should also be a little bit at the top as well, for the same reason. A pot with a hole in the bottom and a saucer underneath is perfect for excess water drainage. 
4. Show them some love! 
What really helps plants thrive is some good old TLC-- so make sure they get it. This includes everything we mentioned above, as well as other things, like pruning away dead leaves and changing the soil every few months. With these tips and a little love, your plants will be growing like champs in no time.