Fall Fashion Inspo: Movie Edition
August 10 2017,

0 Comments
Whether we like it or not, summer is drawing to a close-- but that's not all bad! With fall comes days of crisp leaves, apple cider, and wayyy more opportunities for cute jackets and coats. This autumn, we're looking to the movies for our fashion inspiration. From classic Italian films to Wes Anderson staples, the movies (and leading ladies) on this list remind us that fashion and film go hand in hand. 
Annie Hall (dir. Woody Allen)
Annie Hall is frequently cited as an on-screen style icon, and for good reason: her effortless looks are a mix of chic menswear and quirky accessories. Probably her most famous outfit is the most easy to replicate: just look for clothing with easy, androgynous silhouettes and menswear inspired touches, like neckties or collars. Annie Hall makes dressing like one of the boys seem oh so cool, and her look is absolutely perfect for fall. 
The Royal Tenenbaums (dir. Wes Anderson)
The Royal Tenenbaums is filled with great costumes-- from Ben Stiller's red tracksuit to Owen Wilson's cowboy-inspired getups, the movie is a sartorial dream from start to finish. We're pretty into Gwyneth Paltrow's character in the movie, aka Margot Tenenbaum. Her simple polo dresses, heavy eyeliner, and signature fur coat are made to be emulated when the weather gets cooler. Bonus points if you take up playwriting and being moody in the bath. 
La Dolce Vita (dir. Federico Fellini)
A tale of love and lust set in 1960's Rome, this Fellini film is chock-full of amazing fashion. From the Swedish actress Sylvia to a rich heiress named Maddalena, Fellini's leading women are always dressed to the nines. Pick up a sleek back dress (or evening gown, if you're feeling fancy) and an Italian boyfriend for instant Fellini vibes.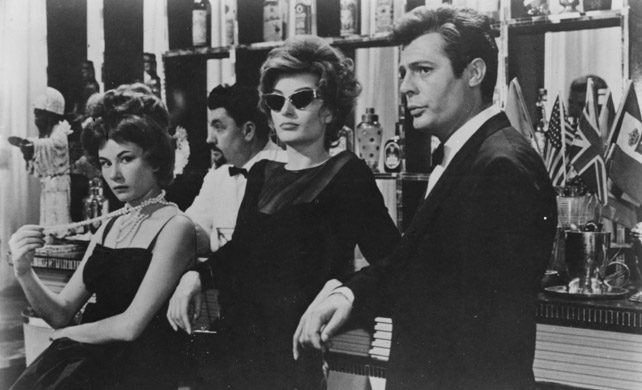 Masculin Feminin (dir. Jean-Luc Godard)
Godard's films are instant lookbooks-- the costumes, makeup, and general attitude of his characters make them instant style icons. And Masculin Feminin is no different. Centered on the relationship between an aspiring pop singer (played by real life musician Chantal Goya) and her boyfriend, Godard's characters are the "children of Marx and Coca-Cola", and have impeccable style to boot. Channel your inner French teenager with a bright colored cocoon coat or a chic turtleneck. 
Rosemary's Baby (dir. Roman Polanski)
Mia Farrow forever has our hearts, especially in this Polanski film. If you haven't seen it already, add it to your Netflix queue ASAP-- if only for Mia's amazing costumes. The pinnacle of 1960's chic, Mia rocks babydoll dresses and bright prints like no one's business. Pick up a fun printed mini for instant vibes-- without the demon baby, of course.