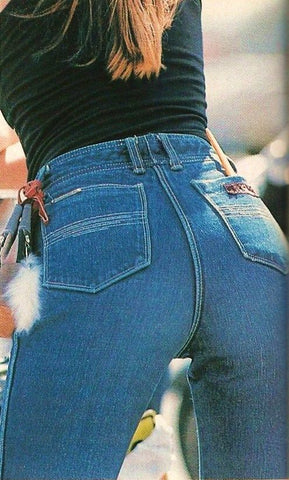 FIT GUIDE: FIND THE PERFECT FIT FOR YOU!
January 11 2021,

0 Comments
Everyone needs their go-to pair of jeans that will stay in your closet years.
When it comes to denim, finding the perfect pair can be super stressful & hard. We know the ins and outs of all our favorite denim, so we are here to help you find that pair you've forever been searching for!
Body Type: All!
Pros: Comfortable high rise, stretch, fitted throughout, looks great with most shoe styles
High rise, fitted within the leg with a flare at the ankle. These jeans are perfect when you want something more hugging to the thighs. Usually more on the stretchy side, as they hug your body!
Body Type: This style great if you are on the taller side. If under 5'6 you may need to hem them
Pros: Flattering high rise, fitted leg, longer inseam to make you look taller
These jeans are perfect for that non-cropped, flare look! The raw denim means they are not as stretchy, but are still form fitting with a super high rise. 
Body Type: Hourglass, Curvy
Pros: Fitted waist so no gapping, Accentuates curves, Stiff denim that with time will fit to your body perfectly.
Both of these styles are super in right now! Bringing back 1950's women's workwear style will Lee's reissue collection. We seriously could not be more obsessed with the fit of this style of denim.
Body Type: All! 
Pros: Fitted on waist and butt to accentuate your assets! Straight leg gives a chic look to your outfit, the hem has a crop and looks great with all shoes
This style of denim is what we have been gravitating towards on the daily. Super classic and loose fitting throughout the leg, but tight on the waist and hip. Good booty jeans, always. 
Body Type: Tall, Curvy & Straight
Pros: Fitted in the waist and hip, Comfortable wide leg. Sometimes a wide leg can be overwhelming on the bottom half. These are great because the fitted top.  
A super wide leg can be so flattering when paired with the right top! We always have a pair of these on hand for a super chic look. 
Body Type: All
Pros: Flattering on the waist and butt, Stretch denim for comfort. The Update to your skinny jean. 
Every girl needs their go-to pair of skinny jeans. These can either be stretchy or more of a rigid denim, but that comes in right at the ankle for a slimming look. 
We hope this gives some insight into our favorite styles of denim! It's really hard to find quality denim that will not only last, but will never go out of style. All of these styles are just that!
XO, 
Cloak & Dagger