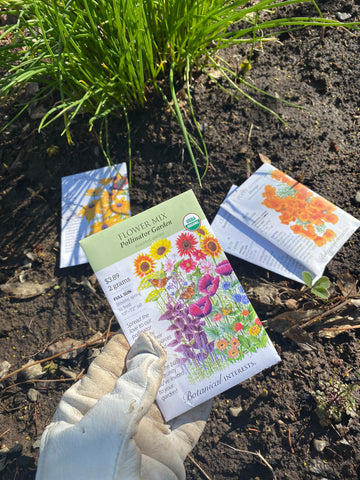 HAPPY EARTH DAY: STARTING A GARDEN DURING COVID-19
April 22 2020,

0 Comments
Well, here we are, thick into the COVID-19 pandemic and hoping all of you and your loved ones are safe and well.  Apart from the heaviness of this unprecedented historic event we have discovered many silver linings.  For one, the reduction on the toxic load we as humans dump onto the planet daily has been dramatically been reduced during our time at home. What a better present to give Mother Earth this Earth Day! 
As I sit here and drink my cup of herbal tea, I am planning what I feel is the future, my vegetable garden!  This year I'm trying to plant everything from seed to save myself some money and build on what I planted last year.  The key for me this year has been the idea of companion planting.  This is the strategy for me this year as I learned last year that many of my garden's residents got to my vegetables and fruits before I did.  The idea of companion planting to to attract beneficial life and deter the ones that will eat your garden before you do.  This is the chart I'm using this year and it's been so handy.
So far, the Peonies and Daffodils my son and I planted in the Fall are coming up. I started practicing more economical ways of building my garden and ordered the bulbs from Brecks this year.  Here they are brightening up the formerly weed filled area in the front of our yard here upstate.
Gardening for me during this time, during any time, is wonderful.  It's meditative, and a serene time to contemplate Mother Nature and learn more about what she has to offer and the intricacies of her workings. O f course I like to be comfortable  (while looking cute) while doing it. Here's my favorite new gardening outfit which I will be sure to be living in all summer long!
I'll be wearing them with a very sunhat, hiking boots and lots of SPF of course!!
HAPPY EARTH DAY AND HAPPY PLANTING!!