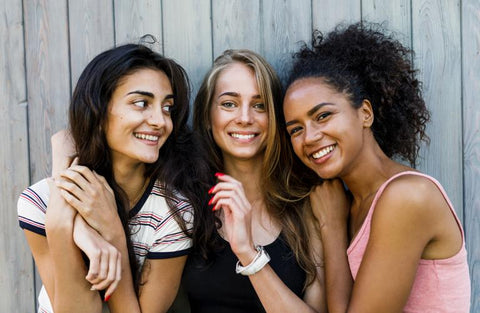 HEALTHY HAIR TIPS!
August 22 2021,

2 Comments
Let's be real, we've all tried a hair DIY (especially over quarantine) or done something new with our hair that just totally didn't work... OR maybe it really damaged your hair :(
Here are some tips to make/keep your hair happy and healthy!
1. A WELL ROUNDED DIET
One of the most important factors of hair health is how you eat! However, making sure that you are getting enough protein is the most important, as hair is made up of a strong protein called keratin.
Signs that you may not be eating enough protein: brittle hair, loss of hair color and loss of hair itself.
Other important nutrients to make sure you are incorporating into your diet are Zinc and Omega-3!
2. NOT OVER WASHING
One of the main causes of hair breakage and damage is over-washing. This is really down to personal preference and genetics, as people with naturally oily hair may want to wash their hair more frequently. Many people have different opinions on how often you should wash your hair, but it really all comes down to:
- Your hair type and texture
- How often you use hair products (other than shampoo)
- your activity level!
It is a general rule that nobody should wash their hair more than once a day! This will strip your hair of the naturally beneficial oils and leave it more damaged.
3.  FINDING THE RIGHT SHAMPOO AND CONDITIONER
Many hair products on the market today are targeted towards a specific problem that your hair might be experiencing. Really think hard about what it is exactly that your hair needs and try to find a product that matches that such as: repair, anti-frizz, etc. The exact same goes for conditioner!
AVOID products with sulfates AT ALL COSTS! Sulfates are meant to rid your hair of oil and dirt, but more often than not cause more damage to your actual hair than they help.
4. LIMITING HEAT
Limiting the number of days that you use heat on your hair (blow drying, curling, straightening) will improve the overall health of your hair. If this is not a possibility look for a nice heat protectant spray to use before you apply heat!
5. SWITCHING UP YOUR HAIRSTYLES
If you are a lover of a tight hair-style, it is important to change up the location of your ponytails, buns, etc. in order to not cause too much breakage to one specific location on your head. Try learning some relaxed/damage free hairstyles with a quick google search!
6. BALANCE YOUR LIFESTYLE
Things such as stress, alcohol consumption, unhealthy dieting & many other things can cause hair loss and damage. If you try the steps above and nothing is helping the overall health of your hair, we suggest consulting a medical professional.
Hope you found some helpful tips!
XO,
Cloak & Dagger