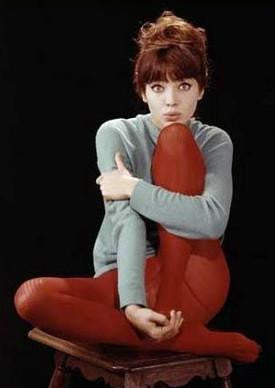 How To Be Anna Karina (At Least For A Day)
Anna Karina is considered by many to be the quintessential bombshell of French
nouvelle vague
(new wave) cinema, and for good reason: a frequent collaborator with Serge Gainsbourg, and the muse and lover of Jean-Luc Godard, she was also a successful novelist and actress in her own right. To top it all off, her style is classic and feminine… and gives us some major inspiration! If you want to channel this star's effortlessly cool French style, or just feel like giving your look a little
je ne sais quoi
, follow our Anna Karina-inspired tips below.
First off, eye makeup is key. Whether it's blue eye shadow and a killer cat eye, or some slept-in black eyeliner for a carelessly chic "just rolled out of bed" look, Anna Karina proves that sometimes, no-makeup makeup just won't cut it.
While black is undeniably cool, a pop of color can be a refreshing change. Bonus points if you match your tights to your beret or sweater like Anna does here in
Une femme est une femme
.
Don't be afraid to get nautical.
You should probably at least think about getting bangs, if you haven't already…
And most importantly, always make an impression. Whether that's with a fur lined dress and coordinating bow or not, Anna Karina reminds us that sometimes, more is more-- and a lot of fun, too.