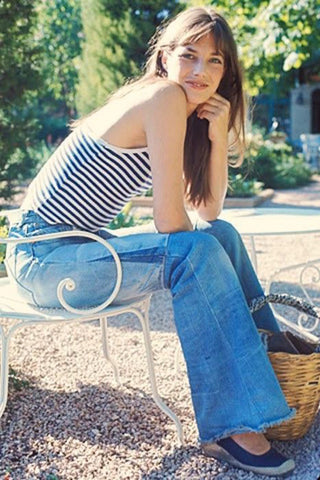 How To Find Your Perfect Pair of Vintage Jeans
There's nothing quite like a pair of vintage jeans-- they're almost always comfortably broken in and ultra-flattering to boot. But finding your next favorite pair of secondhand Levi's or Lee's can be pretty tricky, especially if you're a vintage denim beginner. Lucky for you, we've decided to share some of our favorite tips and tricks for vintage denim shopping, so you can find the jeans of your dreams in no time. 
1. Remember that vintage sizing is different from modern sizing! 
It's easy to look at the tag on a perfectly worn-in pair of Levi's and assume that a vintage size 6 is the same as a modern size 6-- but a lot of the time, that's simply not the case. Sizing can vary depending on cut, rise, and style, so don't pay too much attention to the label. 
2. Always try on. 
See #1! Trying on jeans can be time-consuming and discouraging, but since it's hard to go by just size, it's best to just pop them on and then go from there. You can tell a lot more about the denim once it's on your bod! 
3. When in doubt, measure the waistband of the jeans around your neck. 
This trick seems a little bit too good to be true-- but most of the time, it actually works! Just take the waistband of your jeans and wrap it around your neck. It'll look a little strange, but if it'll fit around your neck, it should fit around your waist as well. But try them on too, just to be sure... 
4. Don't be afraid to customize. 
The best part of vintage denim is making it your own, so don't be afraid to go all out! Whether that's cutting off the hems, sewing on a cute patch, or even turning jeans into a pair of denim shorts, the possibilities are endless once your find your perfect pair. 
Happy hunting! xx