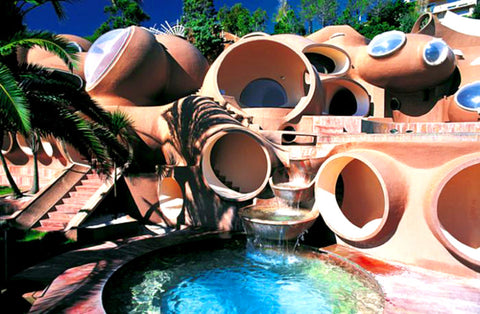 LE PALAIS BULLES: HISTORY OF THE BUBBLE MANSION
April 18 2021,

4 Comments
Welcome to an inside look at one of our most dreamed about houses! Honestly, it's hard to call Le Palais Bulles a house.... The 1,300 square foot house is complete with 29 rooms, a 500-person outdoor amphitheater, multiple pools and luscious gardens. Oh yeah, and there is not a single right angle in the entire place.
The Palais Bulles, also called "The Bubble Palace" is now known around the world for its unique design. Only 10 years after its completion in 1989, Le Palais Bulles was named a French national historic monument in 1999.
The building was originally constructed by Hungarian architect Antti Lovag for one of his colleagues, French Industrialist Pierre Bernard in the 1970s. Lovag's main inspiration for the space was a combination of prehistoric, cave dwellings with space age futuristic elements. This combination has now taken over many mood boards, as retro-futurism has been taking over interior design in 2021!
The structure is located on a cliff at Théoule-sur-Mer in the French Alps near the town of Cannes. Famous designer Pierre Cardin, known for his avant-garde and Space-Age designs, purchased the property in 1992. The location and design was exactly what Cardin dreamed of. Cardin never actually resided at the palace, as he owned another property nearby. He bought the residency to host parties and shows, especially Cannes Film Festival after-parties. Cardin stated that Le Palais Bulles felt like "nothing but happiness". 
Every single room in the palace is a circular shape. Not only that, but windows, skylights, doors and most of the furniture inside is circular. Each room has a spectacular view of the Mediterranean. 
Cardin eventually put the property on the market in 2016, for a staggering $456 million. It really is such a one-of-a-kind place, we dream about being there all the time.
Le Palais Bulles shaped the way for pushing the limits of home design.
XO, 
Cloak & Dagger NYC
Aerial View of Le Palais Bulles 
Le Palais Bulles At Night
 Master Bedroom - Cardin's Famous Circular Bed
A Sitting Area in Le Palais Bulles