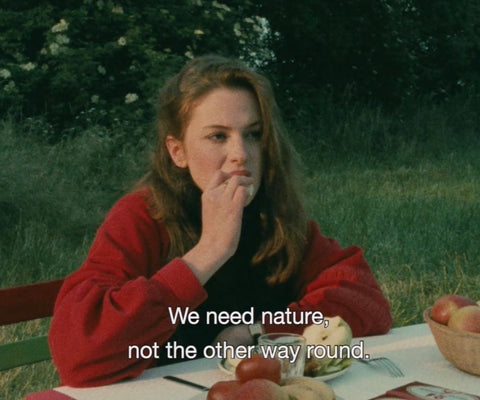 HAPPY EARTH MONTH - SUSTAINABLE LIVING TIPS!
April 05 2022,

13 Comments
In honor of Earth Day approaching quickly this year, we have decided to put together a list of tips and tricks for living a more sustainable life! Most of these can be done by anyone, ANYWHERE - but being in NYC we also wanted to focus on how easy it can be to live sustainably in metropolitan areas!
1. LOWERING YOUR CARBON FOOTPRINT
Making a conscious effort to lower your daily carbon footprint is one of the most impactful ways to make a change! It may seem like a small action to take public transportation or to start biking to work, but if EVERYONE made this change think of the impact it could have! Most major cities have great accessibility to alternative transportation - just do a quick Google search! This is also a great way to get some exercise in while you commute!
2. INVEST IN LOCAL FOOD PRODUCTION
Urban farming and co-ops are a great way to support local farmers and eat quality foods! Not only are you supporting the community, but eating naturally can also help reduce the carbon footprint - think about where your food comes from and HOW it gets to your home.
3. REDUCING MEAT CONSUMPTION
The livestock sector generates JUST as much greenhouse gasses as all automobile emissions combined! Additionally, de-forestation for grazing pastures have been decimating natural carbon sinks, which are IMPERATIVE and the ONLY natural way the Earth can remove Carbon from the atmosphere. The ocean and vegetation are the largest carbon sinks - taking care of them is so important! Studies also show increase in heart disease, strokes and diabetes in people with meat-heavy diets. 
4. SMALL HOME IMPROVEMENTS
The tiniest things around the home can help you live more sustainably! Improving window and door seals so that your heat/cooling does not escape, taking shorter showers, only running the dishwasher when it is FULL, turning off all the lights before you leave the house and switching to re-usable items such as straws and food storage items, are just a few of the many things you can do at home to reduce your daily waste.
5. COMPOSTING!
Going off of # 2 & 3 above, composting is a great way to naturally fertilize your garden, take care of your soil and reduce your carbon footprint! Here is a list of everything that is and is-not composable! Many cities have easy ways to drop off your compost, and if you live in an apartment - store your food waste in your freezer until you can properly dispose of it so it doesn't make your entire living space smell bad!
6. INVESTING IN QUALITY OVER QUANTITY
This is a general daily life practice that can be applied to clothing, household items, basically anything! ONLY buy something if you KNOW that it will be used.
Happy Earth Month!
XO,
Cloak & Dagger