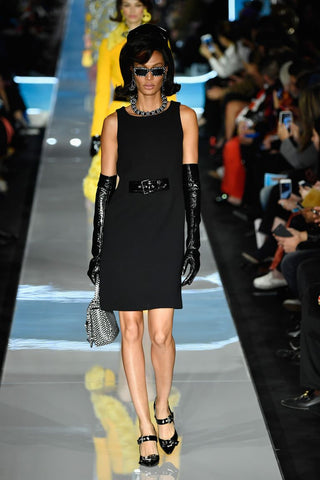 NYFW SHOWS WE LOVED FALL 2K18
March 13 2018,

0 Comments
COACH 1941
The 
"American Gothic goes to the Southwest" that we did not know that we needed (but we definitely do). 
 Creative director, Stuart Vevers, took Coach into the woods. The stage contained 
old-school televisions strewn across the set that seemed to play something along the lines of the Blair Witch Project. It was a dimly lit forest on the runway, where smoke filled an autumn pile of leaves. 
Models pranced out with playful ruffled hemlines floating the floor behind them. The dressed carried a mysterious lightness, consisting of long-sleeved, high-neck silhouettes. The dark floral prints and paisley patterns were a feminine take alongside the infamous outerwear Coach presents. The show ended with a sparkle, with lamé pleated dresses sealing the deal that we were in love with this spooky show.
MOSCHINO 
Jackie Kennedy and conspiracy theories, oh my! What's not to love? 
 Jeremy Scott, a lover of  theories especially loved the JFK conspiracy. That one where President Kennedy told Marilyn Monroe aliens were, in fact, real. She expressed that she was going to go to the press with the story, and that she was offed because of it. Scott did a take on this theory himself: that Jackie Kennedy was an alien herself, and responsible for both of their deaths. This spiked a few models to be painted out-of-this-world shades of orange, yellow, and aqua. The show had a political element of it as well. 
 Scott is known to be outspoken in his politics and  strongly opposed Donald Trump's course of action on illegal aliens, noting 
"I'm not anti-alien," he said. "I don't want to build a wall."  The collection itself was filled with
 strikingly bold colored skirtsuits matched with the iconic pillbox hat. They definitely took their spin on Jackie with a vibrant take. When the night looks came out, it was all about Marilyn. No more deciding whether or not you're a Jackie or a Marilyn; both of these two were delivered. Sparkly silver beading ballgowns walked the floor with a retro take. The tale behind it was ridiculous but the pieces were absolutely not. 
BOTTEGA VENETA
A love letter to New York City! Perfect for the casual stroll to the bodega in your silk pajamas, Bottega Veneta has got you. The 
unveiling of the latest collection was held, appropriately, at the American Stock Exchange. 
Maier is devoted to craft and the workmanship poured into these pieces beautifully capture allusions to the skyline. The show was 
Maier's salute to what he sees as New Yorkers' courageous spirit, saying,  
"Among millions of people, it's nice to make a mark." 
From multi-colored wool dresses inspired by NYC elevators to silk pajamas embodying the effortlessly cool aesthetic of the city, this show was an incredible salute to what NYC has to offer. 
BROCK COLLECTION
Romance Romance Romance! The Brock Collection delivered rich fabrics with impeccable detailing.
Kristopher Brock and Laura Vassar
cleverly combined the clean, minimalistic approach with antique feels. Special fabrics were thrown all around as a 
long-sleeved lace piece was debuted that wasn't really lace, but instead, hand-embroidered tulle. The last glimpses we got of the collection featured velvet gowns that were covered in dense embroideries. Vogue noted that the collection had remnants of
 old-soul, romantic gestures that have been lost in translation in our digital age. A tea dress and love letter (for some reason) is hard to come around these days.
TORY BURCH
The base
 of the Queensboro Bridge held the Tory Burch's show. The temperature outside fluctuated around 32 degrees, but the pink carnations, mossy turf, and looks shown made it all worthwhile. 

Burch played with defined, masculine shapes with beautiful floral-printed dresses. The addition of parkas added a bold contrast to the fluid dresses shown. Vogue cleverly noted that it was "
easily elegant clothes well considered for our very complicated times."