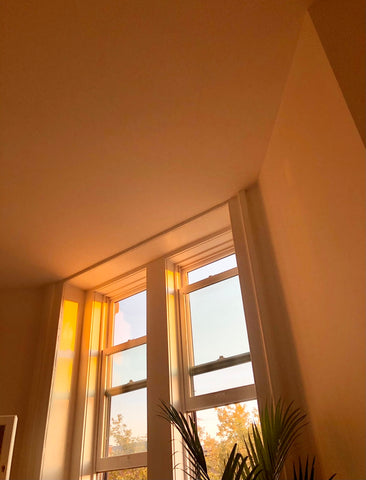 OUR PERFECT SUMMER MORNING ROUTINE!
The way you start your morning can have a direct impact on your health, well-being and mood! That is why we believe it is extremely important to create a balanced morning routine that will ground you, getting you ready to conquer the day. Everyone has their own activities to start the day off right, but today we are going to share a few of ours to help you get some inspiration!
IMPORTANT TO NOTE:
I know we all have the urge to grab our phones right when we wake up, but try and get through this morning routine without it! I promise that this will be one of the main things to help your attitude in the morning. Take the time for yourself and your body - not scrolling social media or focusing on other tasks until your routine is done. It's a form of meditation to have a designated time just for yourself.
1. MAKE YOUR BED
The first thing that I like to do when I get up in the morning is make my bed! Doing this takes 5 seconds and instantly makes me feel more organized. This also helps to make sure I don't somehow roll back into bed:)
2. HYDRATE
DRINK A LOT OF WATER! The very next thing that I do when I get up is pour a large glass of water and drink it all before I eat anything else. It is important to hydrate, especially during the summer! Plus! Drinking water is a natural energy boost!
3. SHOWER + MOISTURIZE
Next, I'll either hop in the shower, or if I showered the night before - I will wash my face. This helps to refresh your skin, and clean it from oils that built up while you were sleeping. When I hop out of the shower, I'll usually use a body oil to moisturize. If I don't shower than I will use a body cream to make sure that my skin is moisturized. Moisturizing is one of the most beneficial things you can do for your skin - try and make it an everyday habit and you will for sure notice a difference in the clarity and feel of your skin.
4. BREAKFAST
The next thing I like to do is make some coffee and a healthy breakfast. Avocado toast and scrambled eggs is my go-to fave because it really doesn't take a lot of time to make.
5. JOURNAL / WRITE TO-DO LIST
While I am eating breakfast, I like to take the time and write out my daily goals. Making sure that they are actually feasible, so that by the end of the day I know I will be able to accomplish everything I write down. I also like to take the time to write down 2 things I am grateful for - this keeps me grounded throughout the day.


6. GET READY WITH GOOD VIBES!
Finally, I love to get dressed and do my hair and makeup. It doesn't have to be anything too elaborate (or it can be - depending on the day), but getting myself in a cute outfit and even just putting on chapstick makes me feel ready to conquer the day! While I'm getting ready I love to blast some music that pumps me up!
 I hope this shares some insight into my daily routine! Let me know of anything that you swear by doing in the morning!
XO,
Dani
---
Cloak & Dagger NYC