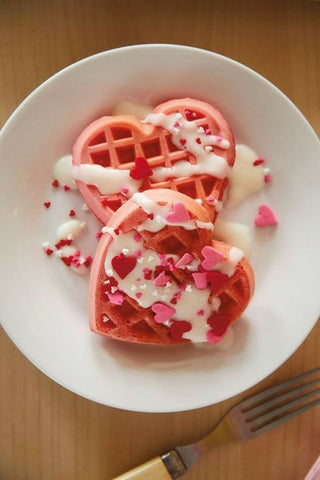 "PLAY WITH YOUR FOOD" EP. 1: PINK BELGIAN WAFFLES & VALENTINE'S DAY PLAYLIST
February 08 2021,

13 Comments
WELCOME to our NEW series - "Play With Your Food"
We are so excited to introduce you to our monthly series, which will include a recipe and a matching playlist that is perfect for jamming out while you are cooking amazing food!


All playlists will be available on our Spotify, so make sure to follow us on there @cloakndaggernyc !
Today we will be teaching you how to make natural Pink Belgian Waffles, with our secret recipe! These are perfect for Valentine's Day or ANY day you want to add an extra touch of adorable.
*If you do not have a waffle maker, this batter can easily be made into pancakes on the stove! Batter instructions are identical.* 
Supplies:
Blender
Medium sized boiling pot
Small, medium & large mixing bowls
Whisk 
Waffle maker (if you don't have, this recipe can also make pancakes with a flat stove pan!)
Large spoon 
Fork & Knife
Ingredients: 
Batter
1 or 2 beets (boiled and peeled) 

4 cups flour 

1 tsp. quick yeast 

1 tsp. salt

½ cup granulated sugar 

4 eggs 

1 cup melted butter 

4 cups milk OR 3 cups milk, 1 cup cream/buttermilk 
Toppings
Strawberries & other berries of your choice

Maple Syrup

Optional (but also super yummy toppings): powdered sugar, cinnamon, Nutella, shredded coconut and dark chocolate chips
Directions: 
1.
Boil beets until they are tender enough to be able to stick a fork through the center (takes between 20 and 40 min depending on size) Complete steps 2 & 3 while beets are boiling. (When your beets are done boiling, set them to the side to cool before you peel the skin off) 
2. 
Place melted butter into a medium mixing bowl. Let sit & warm while you complete steps 2 -4 (You want to make sure the butter is completely melted).
Sift and combine all dry ingredients into a large mixing bowl (flour, sugar, salt, yeast) and mix together with a whisk. Make sure there are no lumps and that your dry mixture is mixed very well.
3. 
Place 1 boiled and peeled beet into a blender. Add your 4 cups of milk and blend until smooth. If your mixture is not as pink as you would like, blend the other beet in. (How many beets you use is totally up to you!)
4. 
Mix 4 eggs in a small bowl.
5. 
Place your mixed eggs & blended beet/milk mixture together with the melted butter in the medium sized mixing bowl. Mix well with a whisk until there are no lumps. 
6. 
Slowly mix your wet mixture into the large bowl with your dry mixture. Whisk again until smooth.
7. 
Let rest for about 30 min. ideally over a warm surface. (this is crucial for fluffiness!)
Baking:
Pour about 1 cup of batter into the waffle maker. After about 2 minutes, flip your waffle. Wait another 2 minutes and check the color of your waffle. You want them to be golden, and a little bit crispy on the outside. If they need more time, keep checking in 30 second intervals. 
Plate your waffles as soon as they come out of the waffle maker, that's when they are the best! For an extra touch of cuteness, cut your strawberries into heart shapes :)
*When cooking pancakes, pour about ½ cup onto the pan at a time. You know your pancake is ready to flip when bubbles form all over the batter. Cook until golden.*
Happy listening & cooking!