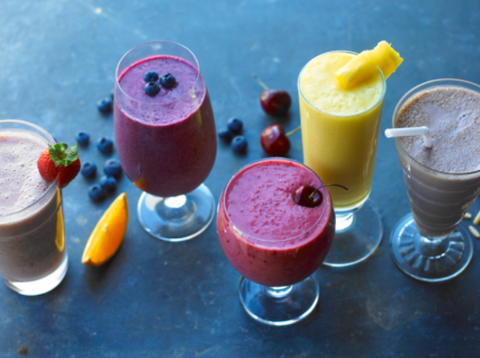 Warm Weather Detox! 4 Smoothie Recipes To Try This Spring
April 13 2017,

0 Comments
Want a smoothie that tastes good and helps your body detox at the same time? So do we! 
When the warm weather rolls around, not only do we want our bodies to look summer ready, but we also want to feel rejuvenated from the inside out. 

Smoothies have been known to increase your health in multiple ways, such as cleansing and energizing your metabolism, detoxing your liver, and hydrating your skin (amongst other benefits). Here are a few of our favorite tasty smoothies to help get your body jump-started for warmer weather!
Immunity Builder Green Detox Smoothie
Ingredients:
2 cups of filtered water
1 pack of frozen acai fruit puree, or 1/2 cup blueberries
3 cups of kale (or spinach for a milder taste)
1-2 tbsp. raw organic coconut oil
juice from one lemon
pinch of cin
pinch of cinnamon
1 head of parsley, rinsed
1/4 cup of chia seeds
1 banana, peeled
Packed with antioxidants, omega 3 and vitamin C, this smoothie is sure to boost your immune system after a long cold winter. It will re-energize your metabolism and leave you feeling refreshed. 
Slimming Sunshine Smoothie
Ingredients:
1 frozen ripe banana, previously peeled & sliced
1/4 cup orange juice
2 oranges, peeled and sliced
1 cup frozen mango chunks
1/2 cup frozen or fresh pineapple chunks
This creamy citrus smoothie is not only good for detoxing your system, but it's great for slimming down as well! Filled with fruits that are rich in vitamin C, this drink is the perfect healthy pick-me-up for anytime of day. 
Glowing Skin Smoothie
Ingredients:
1/2 cup plain coconut water
2 frozen ripe bananas, previously peeled & sliced
1 cup chopped pineapple (frozen or fresh)
1 cup chopped mango (frozen or fresh)
2 cups spinach or kale
1/2 avocado, sliced
optional: 1 Tablespoon ground flax or flaxseed oil
Due to the hydrating avocado, this smoothie has great benefits for clearing up your skin. The mangos and pineapples in this smoothie contain cartenoids and vitamin c, which are known to give the skin a rosey glow. Who doesn't want a nice summer sheen?
Triple Berry Smoothie
Ingredients:
½ cups (120 ml) water
½ cups (120 g) low fat vanilla yogurt
½ cups (85 g) red grapes
½ cups (75 g) frozen strawberries
½ cups (75 g) frozen blueberries
½ cups (60 g) frozen raspberries
If keeping your heart healthy is something you strive for, this smoothie is the one for you. Berries are known to benefit the heart due to the abundance of antioxidants in them, as well as reduce inflammation in the muscles and joints; they taste pretty awesome, too! 
Not only do we love to see our Cloak and Dagger girls looking cute, we also want you to feel your best! 
All of these smoothies can be made simply by throwing the ingredients in a standard blender, and voila! Now you've got the perfect
drink
. 
Enjoy these tastey recipes throughout the Spring and stay well, babes!