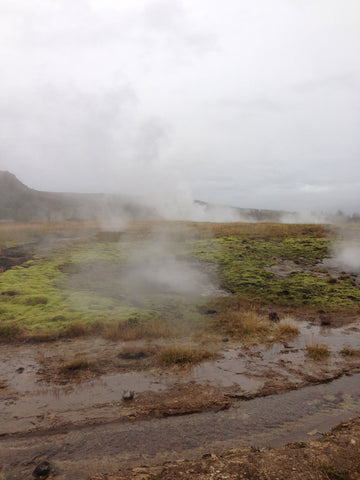 Travel: The Wild Beauty of Iceland
Iceland is pure magic!  The jaw dropping landscape, pure relaxation of natural hot springs that exist everywhere and the serenity in the wild beauty of this country makes it one to push to the top of your bucket list.  For those of you who love the outdoors and like to travel off the beaten tourist path we are pretty sure you will consider it paradise here.
 The turf houses near Vik (where in the town you can find yourself a pretty great selection of Icelandic sweaters) at the Skogar Folk Museum were definitely worth a visit.
We were nervous about encountering a lot of narrow cliff side and mountainous driving but we are happy to report road tripping was super easy in Iceland so be sure to rent a car.  The roads were pretty flat and damn near desolate and the scenery dramatic.  Plus, you will definitely want to venture out of Reykjavik to make sure you really experience the beauty of this place.
 We found a hot pot in every town we stayed in.  It's not hard..
The stop at Geyser (part of the ring road circuit) and don't you dare miss a leisurely day at The Blue Lagoon...touristy, yes, but oh so otherworldly and worth it!
 Our favorite hotel with a backyard hot pot in a town called Hverageroi that was small and a bit strange but so full of charm.  Wish we had stayed here longer...
Bye Iceland. We will surely be seeing you again!